(From the Editors)
J. Kelly has produced a T-Shirt for sale which greatly benefits Stanley Cohen who, through issues beyond his control, is experiencing a dire shortage of funds in his commissary account.  It is through this account that Stanley is able to communicate with the outside be it in letters (paper, pens and postage), phone or emails (which is how we Editors get his posts for "Caged But Undaunted").  This account also allows him to purchase toothpaste, brushes, soaps, snack items, etc.
J. Kelly has done similar benefits for Jeremy Hammond who is also struggling to keep his account funded. As of last report, Jeremy remains in the SHU (Solitary).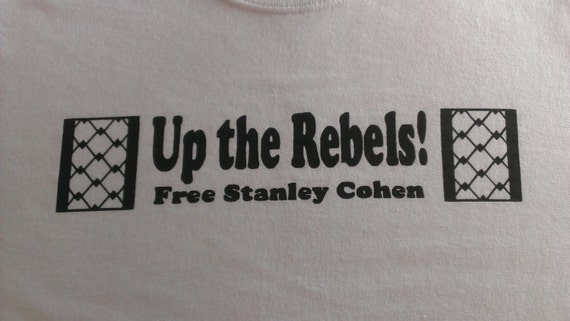 Front
Click on pics to access ordering and view other selections by J. Kelly
All shirts will be printed black ink on white shirts.
Shirt Front: Up The Rebels / Shirt back: tank image
The sale of each shirt will allow us to donate $10 to the commissary fund of Stanley Cohen.
Please purchase at least one for yourself and consider purchasing more as gifts to rebel friends!
Our sincerest thanks to J. Kelly for this benefit offering!  Solidarity!!